It's happening all over North Carolina let alone the rest of the nation -- the Trumpist movement to take over school boards and hound out "cultural diversity" or diversity of any kind (among other things). It's happening in Watauga County, which is why the School Board primary on May 17 is so crucial (early voting starts on Thursday of this week).
What follows is borrowed from PamsPicks.net (with permission), an extensive write-up of the issues now boiling inside public education and information on the insurgent right-wing candidates running against the school board incumbents in Watauga. PamsPicks uses lots of embedded links, and I haven't checked all of them to see that they're working, but you can always go to the link above if having trouble.
. . . . . . .
"Where they burn books, at the end they also burn people"
― Heinrich Heine
Welcome to this year's School Board Culture Wars, where radicalized adults have whipped themselves into a frenzy first over their children's being required to mask in classrooms during a pandemic and onward now into an assault on LGBTQ+, communities of color, local teachers, school administrators, and anyone else they view as
"the other."
The "non-others" believe they can only define and uplift their own human value by defining and destroying the human value of others. They promote
deadly conspiracy theories
and
sling arrows at anything science-based
. They've declared
wholesale war on public schools
. They use social media and fear-mongering to push for laws to
ban books
that run counter to their righteous view of the world and want to censor teachers or fire them if they dare to push back.
The "non-others" call those who will not walk their straight line and adhere to their world view
"woke"
as if being culturally
"asleep"
is far superior (or at least more convenient to their cause). They are co-opted and riled up by dark money,
rich donors
, and advocacy groups like
No Left Turn
. They shake with fear and anger about indoctrination from classic books like "To Kill A Mockingbird," "The Adventures of Huckleberry Finn,"and "Of Mice and Men" — in fact any and all books about the stories and lives of
"the others."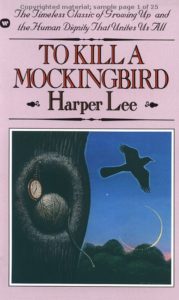 "We have culture war battles over school closures, mask mandates, education about race and LGBTQ issues. You've got discussions around masks, age-appropriate books, transgender bathrooms, and it drives out discussions about hiring teachers, attracting talent, expending capital investments on infrastructure.

We're distracted from the real issues going on."
The John Birch Society followed suit in the 1950s, deciding that if they couldn't win on the national level to rid the world of so-called Communists, they would go grassroots,
including by disrupting school board meetings.
So now here we are again. School board outbursts ending in chaos and threats. School board members in Virginia receiving
death threats
and protesters in San Diego County pushing their way into a school board meeting and
declaring themselves the newly-elected board.
Last Fall,
nine titles were removed from the libraries of four high schools in Utah's Canyons School District.
Just last year, the Texas Senate
voted to remove the requirement in a competing House bill for public school teachers to teach that the Ku Klux Klan is "morally wrong."
In fact, the
American Library Association's Office for Intellectual Freedom
identified 330 incidents of book censorship last fall alone, mostly books about LGBTQ people and race and racism.
The arguments about CRT appear on the surface to take new ground but are
specious
, and "
mirror a 1920s-era assault on teaching evolution in US universities.
" Ramping up that argument while simultaneously advocating for getting back to the basics of "reading, writing and arithmetic," Florida's education commissioner just announced that
roughly 7 in 10 of the math textbooks that were submitted for students in grades kindergarten through 5th grade
would no longer meet State requirements. And Florida Governor
DeSantis has taken on Disney
because they wouldn't sign on to his
"Don't Say Gay" bill
, which seeks to ban discussion of gender and sexuality among young students.
Watauga County Schools find themselves in the Culture Wars Crosshairs this election season too.
There are 7 candidates running for Watauga County Board of Education in this primary. You may vote for 3.
Three candidates are incumbents (Childers, Fenwick, Ashcraft) and have years of experience in working with Watauga schools both professionally and on a volunteer basis. All three answered the Pam's Picks questionnaire in full, and all three presented informed and reasoned answers to diverse questions. All three cited their pride that Watauga County schools rank at the top of the heap statewide in student performance and academics. When asked what they thought about banning books about LGBTQ+ lives and/or history books that address racism from the schools, all three cited strong procedures that are already in place to screen proper reading for different ages and that if a parent wishes to excuse his or her child from reading a book that is personally objectionable, a designated alternative is offered.
You can read their responses to the questionnaire in their entirety and unedited here:
Gary Childers
Jay Fenwick
Marshall Ashcraft
The other four candidates (Cole, Cutlip, Hanifan, Kerley) did not respond to the Pam's Picks questionnaire, but I hunted down what was available about their platforms and have excerpted them below. You can read complete Watauga Board of Education candidate profiles
HERE
.
According to his website,
Cole's priorities are
to fight against "pornography" in High School level books, teachers' indoctrination of students,
"medical freedom,"
to insist that local officials release funding for safety that he alleges is being withheld for political reasons, to stop bullying, and for all of us to come together around these issues.
Cutlip has no platform I can find except a flyer that touts
"Back to Basics,"
Parents' rights,
traditional values
, and transparency.
Hanifan makes no bones about her platform and has, in fact, presented her full platform in her
"Mama Bear Manual."
She aspires to protect children from harmful (and frequently disguised) indoctrination and school curriculum. She asserts that
Planned Parenthood, the Human Rights
Campaign,
the Southern Poverty Law Center
, various LGBT Activist groups, and
Equality NC
(among others) are "pumping" harmful curriculum into school children. She believes that teachers are trained to discuss and promote sexual orientation and gender identity. She warns that the terms used in
CRT (Critical Race Theory)
like "Diversity, Equity, and Inclusion" might lead to
"students lobbying for things like unionization of workers, transgender rights, or taking part in Black Lives Matter protests."
And check this out
, under "Examples of CRT in Watauga Schools," wherein Hanifan accuses a Watauga teacher of using
"Ain't I a Woman" by Sojourner Truth
as "a woke propaganda tool," a newly hired school librarian of "pushing her personal ideas and agenda relating to her personal background and identity, and allegations of majority racism, genocides, etc.," and a Watauga High School Social Studies teacher of "teaching of blatantly racist and sexist propaganda."
Kerley's Facebook page was all I could find about his campaign, and reveals very little of a platform. Once prompted by questions from a reader, however,
he said he was aware of "hot topics" about COVID, CRT and Gender identify (sic).
In short, he does not favor mask mandates, is "still trying to fully understand CRT," and says he will fight to ensure that school bathrooms are clearly marked as to gender and that he will fight to keep them that way.

So there you have it. Don't forget to vote. And be sure to take an "Other" with you.

Copyright 2022 - pamspicks.net