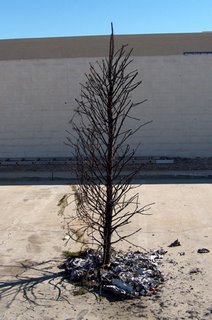 NC-11 Congressman Heath Shuler is holding a press conference today at the Asheville Farmer's Market to focus a little light on the threat of global warming to NC's Christmas tree industry.
Nearly 20 percent of all live Christmas Trees in the U.S. are grown in North Carolina. The industry brings over $100 million annually into the economy of our western counties. A North Carolina Fraser fir has been selected more than 10 times as the White House Christmas tree, including this year.
Fraser firs constitute 95 percent of those trees in cultivation. Frasers require higher elevations and cooler temperatures. Hence the concern of agricultural and scientific experts who seem to have gotten Heath Shuler's attention.
According to the Asheville
Citizen-Times
, some studies have shown that continued global warming will adversely affect the optimum climate conditions in North Carolina for Fraser firs: "A rise in average global temperatures would force the Fraser Fir's natural climate northward and out of North Carolina. Rising temperatures also increase pest control problems and disease longevity."
Meanwhile, our NC-5 Congresswoman, whose district contains a major concentration of Fraser farms, is little heard on the issue, but knows in her heart that if anything bad happens to the tree industry, it'll be the Democrats' fault.