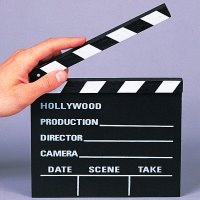 We're generally not agreeable about government-funded corporate welfare. As a rule, it makes us dyspeptic. But
this idea
currently up in the N.C. General Assembly, has our full support.
According to the
N.C. Film Office
, in the past 27 years some 800 movies and 15 TV series have been filmed in our state, vastly enriching the local areas where they set up with jobs (temporary, but still), props, services, even the occasional trained dog. Having supplied props and furniture to both "The Winter People" (1989) and "The Last of the Mohicans" (1992), we loved to see "the movie people" coming. Generally, they paid cash.
Don't know what the current statistics are, but back in the mid-1990s North Carolina had risen to third among all the states for on-location movie production, behind California (duh) and New York.
Third
. There for a while we were experiencing a building boom of studio facilities. The best known and largest is in
Wilmington
, but they're scattered through the middle of the state too. That's infrastructure ... and jobs, lots of jobs. How many extras, weapons experts, horse wranglers were hired for just "The Last of the Mohicans"? Thousands. The ripple effects are pronounced. Our western mountains are still visited by people who were first stunned to see them represented in that Michael Mann movie.
In fact, it was the movies that put Hendersonville, Hickory Nut Gap, Bat Cave, and Chimney Rock on the map back before World War I. When I was actively researching Hollywood history, I was astounded to discover that film crews were flocking to Asheville and Hendersonville every summer beginning in 1910 to make dozens of "two-reelers" that were shown in the nickleodeons of New York, Philadelphia, and Boston. Hickory Nut Gap and Chimney Rock got utilized repeatedly as background for moonshiner and feud shoot-'em-ups as well as a series of movies about the Royal Canadian Mounted Police. Those silent films didn't create Asheville as a destination, but they certainly didn't hurt. Movie crews and troops of actors regularly monopolized the rooms at the Esmeralda Inn, that historic stopping-off place near Bat Cave that (alas) burned down (again!) a few years ago.
What's being proposed in the General Assembly is a very modest tax rebate, a far more productive investment, IMHO, that the millions offered Dell, Google, and various other corporate flim-flammers.