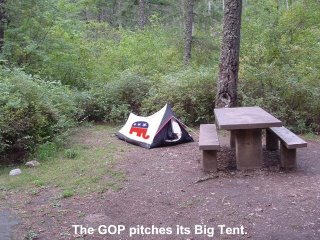 The excerpt below was written by a Republican Party operative in Buncombe County about Republican prospects in the upcoming Asheville municipal elections. It was published on
Scrutiny Hooligans
, our favorite Asheville blog. It's an insider's analysis of the GOP's "branding" problems in the more urbanized areas of western North Carolina and might, in the short run, make its author unwelcome at Republican Party gatherings:
...the Buncombe County Republican Party has been characterized over the last several years more by its own infighting and proving itself relatively ineffective at get-out-the-vote efforts (GoTV). Although a recent influx of younger libertarians to the GOP are an exception, Republican activists are much older than their Democratic counterparts, and tend to consider party involvement more as a social outlet for its own sake rather than as a vehicle for political action. Republicans (social conservatives, particularly) also tend to be more isolated from the cultural life of downtown Asheville, many holding it in open contempt.

There is a virulent strain of isolationism and bigotry in the local Republican Party. The primary "issue" around which the base coalesces is a visceral fear of immigration, legal and otherwise and those fears are used for propaganda purposes by many Republican officials (though, arguably, it has largely backfired). Conservatives, especially, feel that their traditional way of life is threatened by what they see as an "invasion" by immigrants from the south and rapidly changing cultural mores regarding tolerance of homosexuality.

Republicans also lag far behind progressives in the effective utilization of modern technology, especially in the area of social networking tools. No comparable infrastructure exists in the GOP, and what efforts have been accomplished in terms of technology, it is more gloss than substance.

Since 2006, the local GOP has been crippled by intraparty ideological battles (between its social conservative and libertarian factions) and a recent spate of unviable candidates -- from the perennial to the polarizing to the incompetent. All this has had a marginalizing effect on moderate Republicans and has seriously hampered the Republican Party's local fundraising abilities.

The situation shows no signs of improving for the local GOP as the two factions have made peace, at least ostensibly. Ron Paul supporters, who several years ago planned to take over local Republican organizations, have been successful in Buncombe County, with the entire apparatus now controlled by them. Several self-annointed "principled" and socially conservative spokesmen for the local GOP continue to have a stranglehold on the dialogue, continuing to alienate and divide the party.

It should be noted that a grassroots effort has been undertaken in Buncombe County over the last few months under the auspices of the "Tea Party" movement, largely in protest of what they see as "socialist" bailouts, higher tax rates, and President Obama's expansion of government. While ostensibly "non-partisan," it has been largely a movement organized by local libertarians and Republicans and has tapped in to an undercurrent of Republican resentment at recent electoral defeat....